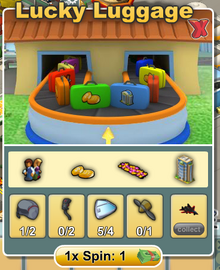 The Lucky Luggage is a daily "slot machine" that gives you more spins for the number of days in a row you are on. The maximum spins for a day without using AirCash is three*. You can enter the lucky luggage either by clicking the Lucky Luggage symbol to the left or clicking on the Luggage Depot which is a passenger building.
AirCoins 100-200
Flowers (Pink)
An item to unlock the Rama-Falcon
Passengers 100-250
skyscraper (100 passengers every 10 minutes)
*Not exactly, you can just log in over and over again and you could get 4 or even 5!