Welcome to the Skyrama Wiki
This Wiki lists all the information and what you need to know to play Skyrama. This wiki is currently a stub and needs expanding. This wiki has 257 articles and 1 user(s) contributing and you can become one! Creating an account will make you recognizable and you can earn achievements and compete with other users! Please check our Rules before editing.
Following the rules is vital to editing this wiki.
About Skyrama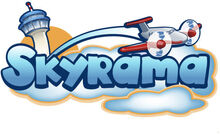 Skyrama is an online multiplayer airport simulation games made by Bigpoint Games. The game lets you create your own digital airport. There exists many types of Planes, Landside Buildings (Which helps you collect passengers), Airside Buildings (Like Runways and Bays) and Decoration which makes your airport look nicer and helps collect more passengers or lower service time for bays. There are six types of planes in Skyrama, there is Small Planes, Medium Planes, Cargo Planes, Medium Cargo Planes, Ramacopters and Sea Planes. All of these are unlockable but some require a high rank. There exists goals. The Main Goals, Story Goals, Daily Goals and Other Goals. Go to the Skyrama Forums and discuss and share your stuff to the entire Skyrama Community! Please contact Yaysuz for permission to edit protected pages.
Main Pages